About Krishak ( P.G.) College, Mawana
Chaudhary Chotu-Ram Memorial Jat higher Sec. School, Mawana was established in 1946 by the Jat Vedic education Society for the growth of education in the field of agriculture by the learned Social Workers and the respected farmers in the hope of getting independence.
The Same organisation has been giving its best since past, by the name Krishak Inter College, Mawana and has proved the hardwork of the people, worthy, who established it in left campus. And in 1959 Krishak Degree College was established to provide higher education to students, especially to the girls by the well educated people.
In 1961, it got a permanent affiliated and collaboration by the Agra University. And started with Arts stream having 6 Subjects: - Hindi, English, Political Science, Economics, History and Sanskrit in Which they had 62 Student and hence forth teaching more than 1500 Students.With the help of Experienced and well-qualified Principal, the University kept on doing well as a result of this the University got the affiliation to run the M.A. Classes with Economics and Hindi without finance and now it is being run as self-financed with permanent Faculties.
In spite of having only one department the number of student, the education quality and result are equivalent to C.C.S. University and is proud to be the pioneer in the rural organization. It possesses a well-equipped library and well-managed auditorium, where the students can study in peace for environment. Except English there is a research centre for higher research for other five subjects, where many students are doing regular research and many students have done Ph.D, beside that proper facility of games and sports are also available. There are two play grounds within the boundary walls; one is in the north campus and the other in the west. The students keep participating in state and national competitions on the level. That's why it is a renowned and self esteem organization.
It's Aim and Moto is

Means->>This world belongs to brave people, so he able and Brave to rule over this world.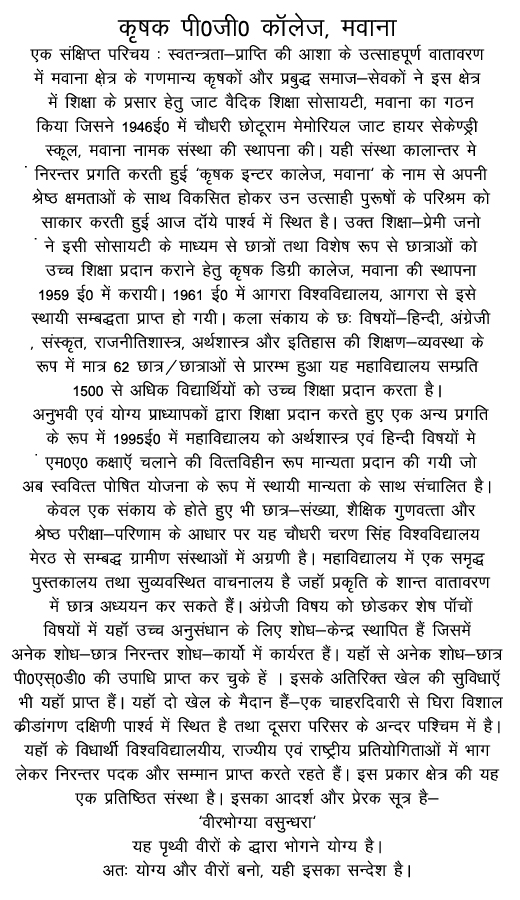 | | |
| --- | --- |
| Name of the college : | Krishak (P.G.) College, Mawana (Meerut) (U.P.) |
| Affiliating University : | Chaudhary Charan Singh University, Meerut (U.P.) |
| Parent Body : | Jat Vedic Siksha Society Mawana (Meerut) |
| Managing Committee | Managing Committee Krishak P.G. College Mawana |
| Years of Establishment : | 1959 |
| Permanent Affiliation : | 01 July , 1961 |
| Govt. Grant - in- Aid : | Go. No. 850/15-85-(2)-4 A (23) /84 dated  01/11/85 |
| Regn. Under  UGC  Section | 2 f      &     12 B - 20 January 1987 |
| Subjects at U.G. level | Hindi, English, History, Sanskrit, Political Science, Economics, Sociology & Home Science (SF) (.....................) |
| Subjects at P.G. level (Self Financing) | Hindi, English (1997-1998), History & Home Science (2001-02), |
| College Code Nos: | University –50 |
|   |   |
| Contact Nos : | Secretary, Management Committee (o) 01233-273971 |
|   | Principal (o) 01233-273971 |
|   | Office Superintendent (o)01233-273971 |